SIM ONLY DEALS you can use at home and abroad NOW WITH EU ROAMING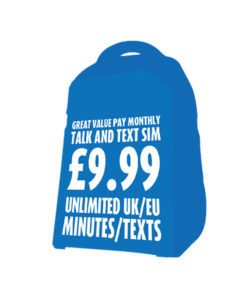 Talk and Text
Unlimited Talktime
Unlimited standard minutes and SMS
+ EU Talk and Text Roaming included
Add International Caller (IC) for only £4.50 per month to call abroad for less direct from your mobile
International Minutes, SMS and Data Bolt-ons available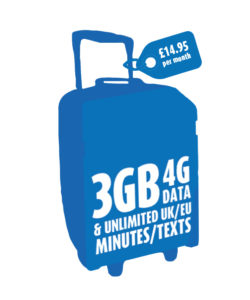 Lite User
Unlimited + 3GB Data
3GB 4G Data Bundle
+ Unlimited standard minutes and SMS
+ EU Talk and Text Roaming included
Add International Caller (IC) for only £4.50 per month to call abroad for less direct from your mobile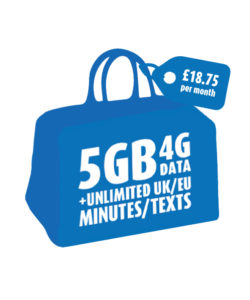 Regular User
Unlimited + 5GB Data
5GB 4G Data Bundle
+ Unlimited standard minutes and SMS
+ EU Talk and Text Roaming included
Add International Caller (IC) for only £4.50 per month to call abroad for less direct from your mobile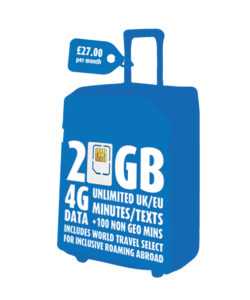 Data User
Unlimited + 20GB Data
20GB 4G Complete Bundle
+ Unlimited standard minutes and SMS
+ 100 Inclusive Non-Geographical minutes
+ EU Talk and Text Roaming included
+ Includes International Caller (IC) World Traveller Select (WTS) (see below for details).
International Caller Bolt-on
International Caller offers you hugely reduced international call rates when dialing abroad from the UK without bundles.
INTERNATIONAL CALLER (IC) is charged at £4.50 extra per month giving you the benefit of making international calls at reduced rates from as little as 4p per minute.
4p to Europe/USA and Canada
6p to United Arab Emirates (UAE)
15p to the Rest of the World
Use your UK Bundles in the EU at no extra cost
Following recent European legislation, from the 15th of June 2017, you can now roam in Europe for free. That means you can use your Inclusive UK minutes and texts in most European destinations.
Users will have access to bundles in the following destinations; Europe Zone 1 Austria, Belgium, Bulgaria, Canary Islands, Croatia, Cyprus, Czech Republic, Denmark,  Estonia, Finland, France, French territories, Germany, Gibraltar, Greece, Hungary, Iceland, Ireland, Italy (inc. Vatican City), Latvia, Liechtenstein, Lithuania, Luxembourg, Malta, Monaco, Netherlands, Norway, Poland, Portugal (inc. Madeira), Romania, Slovakia, Slovenia, Spain (inc. Balearic Islands), Sweden.
Europe Zone 2 Albania, Bosnia and Herzegovina, Guernsey, Jersey, Isle of Man, Faroe Islands, San Marino, Switzerland, Turkey.
Get full access to your UK bundles while roaming abroad
WORLD TRAVELLER SELECT allows you to use your inclusive minutes and texts abroad for £5.75 per day. World Travel Select is available in the following countries:
Anguilla, Antigua and Barbuda, Argentina, Aruba, Australia, Barbados, Bermuda, Bonaire, Brazil, British Virgin Islands, Canada, Cayman Islands, Chile, China, Colombia, Costa Rica, Curacao, Democratic Republic of Congo, Dominica, Dominican Republic, Ecuador, Egypt, El Salvador, Ghana, Grenada, Guatemala, Guyana, Haiti, Hong Kong, India, Indonesia, Israel, Japan, Jamaica, Kenya, Lesotho, Mexico, Mozambique, New Zealand, Panama, Peru, Puerto Rico, Qatar, Russia, Saba, Serbia, Singapore, St. Eustatius, St. Maarten, South Africa, St. Kitts and Nevis, St. Lucia, St. Vincent, Suriname, Thailand, Trinidad and Tobago, Turks and Caicos Islands, United Arab Emirates, Uruguay, USA and US Virgin Islands.
All prices include VAT. All SIM only deals are on the Vodafone network on a 30 day rolling contract, with an exit fee of £30 payable if you want to cancel contract before 24 months. Daily roaming rate is currently applicable against ALL noted event types including received SMS. Any usage will be debited from the user's UK bundled allowance. If a user makes a call out of country, this will be chargeable at standard roaming rates. If a user exceeds their UK allowances, they will be liable to roaming pence per minute rates. Following changes in European legislation, there will no longer be surcharges or increased rates for users subscribed to standard tariffs when roaming in the EU.
To reserve your SIM or for more information call us on 0345 034 3900 or email sales@V4VoIP.com
Other Solutions

&

Services from V4VoIP